Ms. Susan Belgrave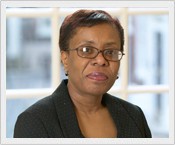 Susan  was awarded a Barbados Government Exhibition Scholarship which allowed her to study French and Spanish (Interpreting and Translation) at Heriot-Watt University in Edinburgh where she pursued her undergraduate studies. Susan later attended the London School of Economics to pursue a Diploma in International and Comparative Politics and later a Masters in International Relations.  She initially worked in the Ministry of Foreign Affairs in Barbados as a Foreign Service Officer for three years before deciding to re-qualify as a lawyer.
Susan was called to the Bar of England and Wales in July 1989 having completed her law degree as a direct entrant in Barbados at Cave Hill Campus, UWI.  There she was awarded the Barbados Bar Association prize for coming top of her class of 120 students. Susan specialises in employment and discrimination law at 7 Bedford Row chambers.  She is described as a leading practitioner in her field by Legal 500 and has been involved in some of the most significant discrimination cases in recent years.
Susan was appointed a trustee in 2011.